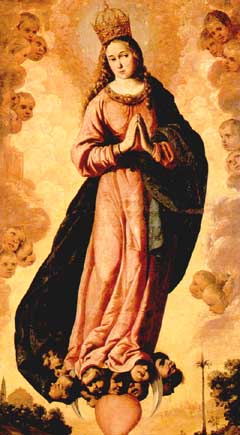 La Inmaculada, by Zurbarán
This area is closed off by a magnificent wrough-iron screen by the Franciscan Friar José Cordero who finished it in 1780. The interior of the capel is lit by a stained-glass window above the reredos. It dates from 1775 and shows St Peter Pope. Another stained-glass window in the wall on the left dates from 1784 amd shows the symbols by which St Peter is recognized.
The reredos adorning this chapel was paid for by the Marquesses Of Malagon in 1625. Its structure was built by the craftsman Diego López Bueno. The paintings were carried out by Francisco de Zurbarán around 1630. The predella of the reredos has paintings of Christ and St Peter walking on the Water, Christ giving the Keys to St Peter and St Peter healing the Lame. The first section shows St Peter´s Vision, St Peter Pope and St Peter´s Repentance. in the second section there are St Peter is released by the Angel, The Immaculate Conception and Quo Vadis. The Heavenly Father in the upper part is an 18C copy of Zurbaran´s original and is therefore not by him.
In the left-hand wall of the Chapel there is the sepulchre of the Archbishop Diego de Deza, which dates from 1430. The right-hand wall has a series of four paintings which used to be ascribed to Francisco Reyna, one of Zurbaran´s disciples, but which may be connected with Juan Luis Zambrano according to the fragment of a signature on one of them. They come from La Merced Convent in Seville and represent The Virgin of La Merced appears to St Peter Nolasco in the Choir of the Novices, The Miracle of the Boat, San Fernando giving the image of the Virgin of La Merced to St Peter Nolasco and St Peter Nolasco`s Death.
Above these paintings there are another three showing St Peter repentant, a copy of an original by the Flemish painter Gerard Seghers, St Peter released by the Angel and The Maryrdom of Santa Agueda, of the 17C Italian school.