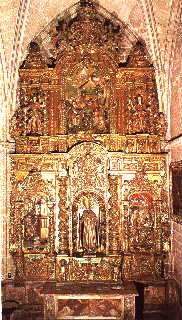 Reredos of the Chapel of San Laureano
According to tradition this chapel is said to have been the first architectural part that was built of the Cathedral, and at the same time it is knowon that it was the first to be finished since Mass was held in it as early as 1412. In 1417 it became the burial place of the archbishop Don Alonso de Egea.

The Chapel is closed off by a wrought-iron screen dating from around 1702 and above it there is a stained-glass window by Enriquee Alemán from 1485, which represents Santa Catalina, St Mary Magdalen, Santa Marta and Santa Margarita.
The inside of the chapel is illuminated by a stained-glass window by Vicente Menardo from 1572 with representations of San Isidoro, San Laureano and San Leandro.
The wall decoration of this chapel was paid for by the canon of the Cathedral Don Valentín Lamparez y Blázquez who stipulated that the should be buried there. The tombstone with his epitaph is still preserved. The reredos and the paintings must be from between 1700 and 1702.
The reredos consists of two sections and is divided by wreathed columns. The first section has reliefs depicting San Laureano in Prayer and The Angel appearing to San Laureano. The central shrine contains a sculpture of San Laureano in the robes of a bishop holding a knife, the second section contains a relief showing The Martyrdom of San Laureano, while on the sides there are two angels carrying signs with inscriptions probably referring to the glory of the titular Saint.
The author of this reredos is unknown, but he must also have made the magnificent mouldings framing the five paintings by Matías de Arteaga on the walls of the Chapel. They date from between 1700 and 1702 and depict The Resurrection of a young Man in Marseille after the Intervention of San Laureano, San Laureano before Pope Virgil in Rome, The Healing of a Cripple in Rome after the Intervention of San Laureano, The Martyrdom of San Laureano and The Delivery of San Laureano´s Head to the Clergy of Seville.
The sepulchre in the centre of the front wall of the Chapel belongs to Cardinal Don Joaquin Lluch y Garriga who died in 1882. It was hewn out of marble by the sculptor Agapito Vallmitjana in 1885.