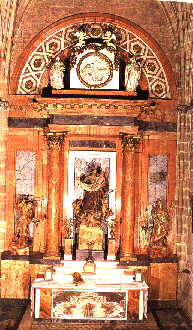 Reredos of the Chapel of St Joseph
At the top of the nave above the chapel there is a stainde-glass window dating from 1479 and representing St Gregory, St Augustine, St Ambrosius and St Jerome. The chapel itself is illuminated by a modern stained-glass window dating from 1932.
The reredos of this chapel is in the neo-Classical style and was designed by Pedro de Arnal. It was built between 1785 and 1800.
The sculpture of St Joseph in the centre of the reredos was carved by José Esteve, while St Michael and San Blas on the sides and those at the top are by Alonso Bergaz.
On the wall facing the entrance screen there is an 18C Pietà, while the sepulchre of Cardinal Joaquin Tarancón, which was built shortly after his death in 1862, is to be found in the right-hand wall.
The paintings of this chapel represent Santa Justa y Santa Rufina by someone imitating Zurbarán around 16650, Christ and the Adulteress, a 17C Italian painting, and The Sacrifice of Isaac by Llanos Valdés from around 1660.
Of greater importance is the painting of the 17C Flemish artist Frans Franken II representing The Supper of King Balthasar.
The two busts of the Apostles from around 1700 are ascribed to Esteban Marquez.