Seville Cathedral: Chapel of The Evangelists

St Sebastián, St Antony and St John the Baptist
Above the screen of this chapel there is a stained-glass window representing The Raising of Lazarus by Arnao de Flandes dating from 1554. Inside, there is another stained-glass window by the same artist dating from 1553 and depicting The Birth of Christ.
This chapel was founded by Don Rodrigo de Santillán, the Archdeacon of Ecija, who in 1555 paid for the paintings of the reredos which were executed by Hernando de Esturnio, an artist of Dutch origin who worked in Seville as from 1539. There are three compositions in the predella representing Santa Catalina with St Barbara, St Sebastian with St John the Baptist ans St Antony as well as Santa Justa y Santa Rufina. In the centre of the first section of the reredos we find St Gregory´s Mass with St Mark and St Luke on the sides. The centre of the second section is occupied by The Resurrection of Christ with St John and St Matthew on the sides.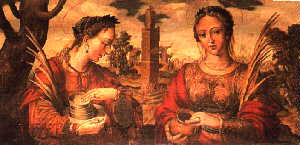 Santas Justa y Rufina
On the wall facing the altar there is a painting with The Four Evangelists which dates from the 17C and is of modest quality in the style of a Flamenco scene. The paintings which show St Peter, Santa Inés, St John the Baptist and Santa Catalina are by Diego Vidal de Liendo the Younger, a prebendary of the Cathedral and a painter. His work dates from the first third of the 17C. These paintings come from a collateral reredos, which used to stand in the Main Sacristy of the Cathedral, and are copies of the originals by Andrea del Sarto.
The chapel also has a painting of the Martyrdom of St Peter of Arbues copied deom Murillo probably by Joaquín Cortés in 1804.