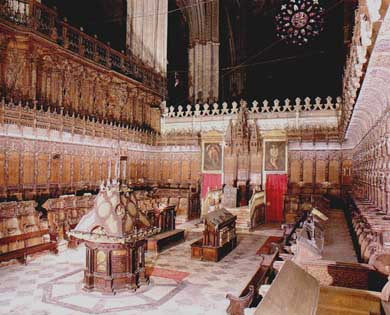 Choir
It occupies part of the nave. Its walls are of hewn stone except for the front which is an exceptional Renaissance screen by Fray Franciso de Salamanca who made it between 1518 and 1523. The motif of the tracery at the top centres around the Tree of Gethsemane. The choir stalls inside consiet of two sections. There are 117, all carved out of wood in the Gothic-Mudejar style. The sculptures represent saints and reliefs with scenes from the Old and New Testament.
The decorative elements of the misericords are very interesting. They depict the vices in a wide range of allegorical figures in the form of monster. The King´s seat, decorated with the coat of arms of Castile and Leon, showsa the mark of the sculptor Nufro Sánchez and the year 1478, thus putting a date to when it was carved. As from 1479, howevwe, the sculptor Pyeter dancart continued the work on the decorative elements of the choir stalls, which were not concluded definitively until the 16C.
The large Renaissance lectern in the centre of the choir is made of wood and bronze. It was carried out by the sculptors Juan Marín, Francisco Hernandez and Juan Bautista Vázquez between 1562 and 1565. The bronze reliefs were cast by Bartolomé Morel. The Virgin with Child in the temple-like structure on top of the lectern is of extraordinary quality. It is clearly in the style of Juan Bautista Vázquez who also made the Crucified Christ and the Evangelists on top of the whole complex.
On either side of the archbishop´s seat there are two paintings representing Christ Man of Sorrow and The Virgin with Child, the latter beging a copy of the original by Guido Reni. These rather mediocre paintings were carried out by Diego Vidal, who was a prebendary at the Cathedral in 1613.
The two large orhans on the right and left of the choir were built in 1724. The wooden cases were made by Luis de Vilches and the sculptures by Pedro Duque Cornejo. Their size is spectacular and their structure mirrors the overflowing spirit of the Baroque style.