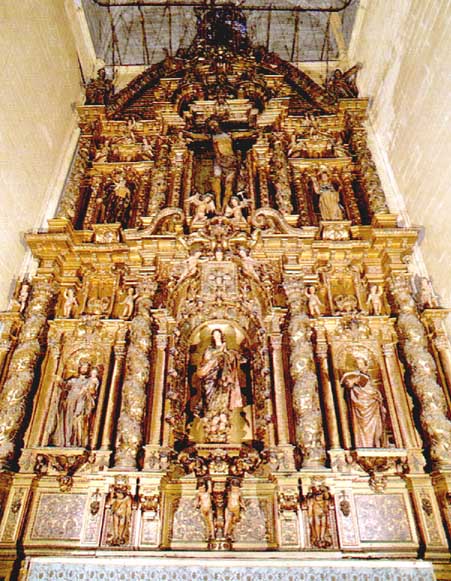 Reredos of La Concepción Grande
Its patronage belonged to the Caballero Veinticuatro Don Gonzalo Núñez de Sepúlveda who bought it in 1654. The wrought-iron screen of the chapel was finished in 1668 and on its tor there are the coats of arns of its patron. The interior is lit by a stained-glass window showing The Martyrdom of St Paul by Arnao de Flandes from around 1550. A second stained-glass window on the right-hand side is dated 1789.
In 1656 the contract for the reredos was awarded to Francisco Dionisio de Ribas, a craftsman specializing in this kind of architectural design, while the sculptures were carried out by Alonso Martinez. The magnificent structure of this reredos is based on barley-sugar columns forming two horizontal and three vertical sections. The reredos centre around a sculpture of The Immaculate Conception, Flanked by those of St Joseph and St Paul on either side. In the centre of the second section there is a huge crucifix from the beginning of the 16C which must have been part of the previous reredos of the chapel and was kept for this one. On the sides there are sculptures of San Gonzalo and St Antony of Padua.
On the left-hand wall of the chapel there is a marble slab with inscriptions and the coat of arms of the Sepúlveda family. It was designed by the painter Juan de Valdes Leal in 1664. In the right-hand wall there is the marble sepulchre of Cardinal Don Francisco Javier Cienfuegos y Jovellanos. It is a neo-Gothic design by Manuel Portillo dating from 1881 and was hewn by the Barrado workshops.